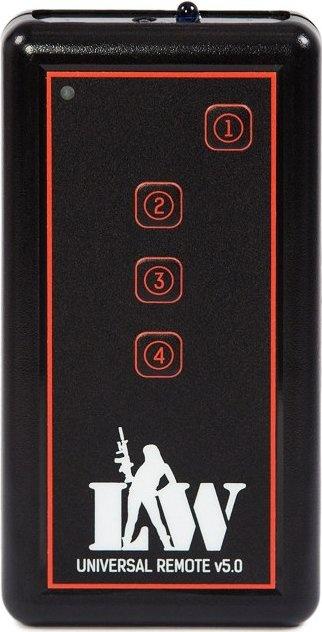 What is the Universal Remote? The Universal Remote is a device designed primarily for game masters, instructors, and game arbiters, which allows you to quickly send base commands to the equipment of several players at the same time.
For example, the game master often needs to perform the following actions:
Respawning all players, for example, when starting a new game scenario.
Assigning a number of players the color of a certain team for the distribution of players between teams.
Increasing the number of base player's hitpoints, that is needed for certain scenarios (such as assault or a terminator).
Activating some presets (hit points, damage points, shock time, invulnerability time, number of rounds, etc.) depending on the player's role (sniper, stormtrooper, a machine gunner, and so on.)
Decreasing of IR-transmitter power for laser tag guns (for example, decreasing bounce effects while playing in buildings).
Putting some players into pause mode (for example, for temporary disqualification in case of violations).
Switching players' guns to a certain mode required for some scenarios, for example, into Zombies mode.
How to use it
To enable a particular function, you just need to point the Universal Remote with IR-transmitter to a player's headband or laser tag vest and press the function button on the Remote.
Functionality
The size and weight of the Remote are designed so that it could easily be carried in the game master's pocket.
The company has specially shifted the buttons from one line to avoid confusion. One main button is placed outside the line. Usually, it is assigned the "New Game" function.
In previous versions of the device, the user had to settle for 4 functions that have been set in this remote by the manufacturer, but now the user can assign up to 8 necessary functions for remote buttons with special software.
The Universal remote is one of the basic devices of games, where more than 2 players are involved. It is a major device for the game master during the game and therefore it is included in most sets for laser tag business.