Laser Tag as a Business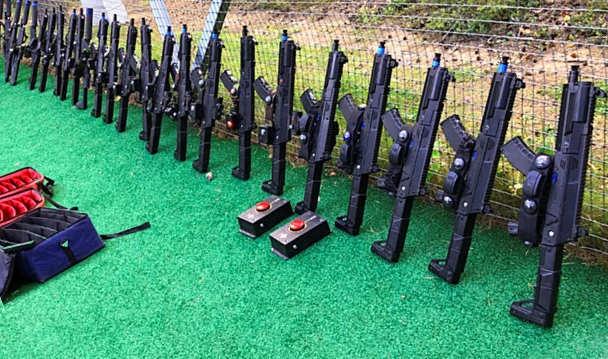 If you already know what Laser Tag means and how it differs from such games like paintball and airsoft, you can understand the pros of starting Laser Tag as your own business.
- Cost savings
Firstly, you do not need to maintain your office. All you need is a small garage, basement or any enclosed space for storing your equipment. This immediately saves you a few hundred dollars in costs per month. If you are just starting out, you do not need salesman or a games master, you can hire them when you don't have time to sell and carry out games on your own. This also saves you hundreds or thousands of dollars in the early stages.
- Large audience coverage and security
Unlike other similar activities, such as paintball or airsoft, Laser Tag, in fact, has no age limits, because there is no such thing as pain. Airsoft is restricted to persons under 18 or 21 years old (depending on your state laws) because its bullet kinetic energy can cause pain. Paintball is also dangerous for children because even with the protective clothes, the ball can hit a child in the neck or hand or a child can take off their mask during the battle.
Since the LaserTag uses infrared rays to tag the enemy, all ages, even the smallest, can play it. This can maximize your audience with birthday parties and other children's parties.
- Low cost of starting a business
The basic kit for starting a Laser Tag business involves 10-12 tagger and multiple devices for several game scenarios and settings. You can choose the Laser Tag Equipment you need. It is nearly $2000 dollars for starting your own business.
- High yield
Look at our business plan in order to understand how it can be profitable.
- Relative mobility of your Laser Tag business
If you move to another region, all you have to do - is to carry this equipment. It will fit in the trunk of an average car.
- High customer loyalty
Laser Tag captivates, as well as other excited and passionate youthful sports. We have customers who have played every weekend for the past 5 years. Over time, you will have permanent teams, you can organize competitions, scenario games, etc., which itself increases the number of new loyal customers.
- Use Ready-Made infrastructure as locations from other sports
You can rent a location from other sports such as paintball or airsoft.
However, if you have the opportunity, you can build your own location.
- No special knowledge to start LaserTag business
You don't need any special knowledge to start this business, but of course, it is desirable to have at least a homepage and a group in some social network.
- Extremely low competition in the United States
In the US, there are very few Laser Tag clubs. If there are any, it is likely the arena Laser Tag, which also can be used as a source of regular customers.
- Already prepared customers
The US has very large and developed paintball and airsoft clubs that have a lot of regular customers, some of which are sure to try your LaserTag and become your loyal customers.